One of the most enjoyable moments during the Renaissance Business Planning Class is when we invite graduates back to the classroom to share their experiences and their business advice. They talk about their successes but also reveal their struggles and mistakes, and what they might have done differently. Their advice has a profound impact on the current students who are about to launch or expand enterprises of their own.
In that tradition, I asked some of my clients and past students to share their thoughts on a common growth challenge for small business owners: balancing business skills with the complexity of the business. I recently shared six key considerations on this topic. I was curious to hear from small business owners in the trenches.  How did their business skills match the complexity of their business when they first opened? How have they dealt with this tension throughout their business' evolution? What advice would they want to share with others?
Here is one story…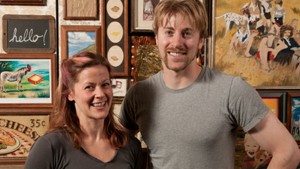 When Heidi and her partner Nate opened The American Grilled Cheese Kitchen they already had general business expertise, people management skills and financial management experience but they were new to the restaurant industry and lacked specific industry skills. Heidi and Nate's approach was to be honest with themselves about their own abilities and get help. "We took a cold hard look at what we did and did not know how to do, and then we recruited advisers who could teach us, or hired staff who already had the skills we lacked."
Heidi and Nate took a similar approach when opening their second location. They had never run a multi-unit operation before. They sought consulting from other multi-unit operators, and hired general managers for each store who had come from multi-unit backgrounds. "We tasked the managers in the stores with the responsibility of ensuring consistency across the stores, not just within their own. For us, hiring managers who brought experiences and skills to the table that we did not have ourselves was crucial." With the added complexity of two locations, Heidi and Nate decided to outsource their bookkeeping, too. "We hired a bookkeeper who had deep experience with multi-unit restaurants, which brought more expertise to our operation and freed up our time to handle other issues."
Just this month Heidi and Nate opened their third location and published a cookbook, Grilled Cheese Kitchen: Bread + Cheese + Everything in Between!
Heidi's advice for other small business owners:
Be brutally honest about what you are good at and what you're not.
For the things you are not good at, find a way to outsource them to someone who is good at them. This goes double for bookkeeping and accounting if you are in a high-volume, low-margin business.
Ask for help.
There are a lot of resources out there for growing business owners, including Renaissance, SBDC, ICA and most importantly, other business owners. People want to see you succeed and you'll be surprised at how much they want to help.
Don't skip financial forecasting.
Many small business owners underestimate their financial management needs and make mistakes with finances when starting or expanding a business. The worst-case scenario is running out of cash, and sometimes growing can really chew up cash. You're in a much stronger position to secure financing before you run out of cash rather than waiting until you're down to the wire. Take the time to forecast cash flow, accounting for your growth needs, and start investigating funding options early rather than late.