In the first years of life we learn to roll over and then crawl, we learn to toddle and then walk, and we learn to mumble, repeat sounds and then talk.  We develop new skills by watching, listening and practicing, by falling down and getting up… over and over.  As we grow, we build our strength, self-confidence, skills and understanding about other people and ourselves.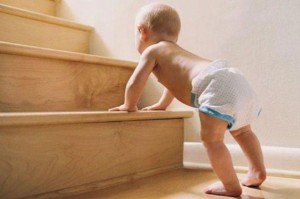 Becoming the leader of a business can be a similar process.  We step into the role (sometimes before we are ready) and we step up to the opportunity (even if we stumble along the way).  Finally, we learn to step out of day-to-day management and into a leadership role.  We develop the personal perspective and skills to take our businesses to the next level.
TIMING IS EVERYTHING
Your business will have different needs at different times.  As a new start-up or a home-based business, you need to figure out what you are doing, convince others to buy from you, and close the sale.  As you expand, you can go after more clients and customers and adjust your services and products to fit the market.  As your businesses matures, you as the owner need to mature as well.  You need to know when it is time to step away from the day-to-day running of the business and bring in additional support.  This becomes a leadership opportunity.
LETTING GO
Giving up control over certain aspects of your business is one of the hardest things to do as a business owner.  Yet it is essential if you want to grow your business.  To be successful, your time needs to be spent on the future of your business, not just the day-to-day needs.
GETTING READY
But how do you recognize the gaps that you need to fill?  How to define the complexity of your business and bring your business skills into alignment?  How do you know you are ready to hire people and train them to operate the business the way that you have proven is successful?
As a small businesses owner, you may be forced to make quick decisions, reacting to opportunities as they appear instead of strategically setting your course.  And, you may have to make things up as you go along, essentially "building the plane as you fly it".  Yet when it comes to hiring people, good preparation is key.  It is critical to to first ask yourself why you need help, what type of person or skill set is best suited for the job, and how you will train, direct and assess new hires so that you can incorporate them smoothly into your business.
JUMPING IN
Here are six important tips to consider when planning to hire employees and step into a position of leadership.
1.  Understand the financial impact
Before jumping into a hiring process, you need to be able to afford it.  Financial costs and revenues forecasting comes first.  Hiring the right person comes second.
2.  Look for people who complement your skill sets
It is important to hire people who can do the type of work that is important to the business but that you don't do well.  Do you struggle to track your expenditures or manage your budget?  Bring in someone with strong money management skills.  Do you love making the product but shy away from reaching out to potential customers?  Hire someone with great people skills and a sales or marketing background.
3.  Spend time on training and then get out of the way
You might be eager to get a new person working as soon as possible but it's important to put energy into training so the new hire not only understands how to do things the right way but also understands why it's important to do them that way.  Once a new person is trained, it's time to get out of the way.  The business is your "baby" and you may have been responsible for all tasks until now.  But the only way a new hire can be motivated, loyal to the business and successful, is if you let him or her own some of the work, too.
4.  Set the right tone and others will follow
You, as the owner, set the business culture.  If you are motivated and happy in your role, if you are transparent, open, consistent and fair, then others will follow your lead.  As the owner, you must be a good communicator and in particular, you must communicate your vision and goals with the people who work for you.  Without clear business goals, it's easy for everyone to get lost in the details and lose sight of the big picture.  You all need to be on the same page.
5.  Continually take the pulse of your team
A good leader takes time to give clear directions, solicit feedback and listen to suggestions.  By scheduling regular check-ins, team meetings and performance reviews with your employees, you create a productive space for communicating goals, addressing concerns and answering questions.  Your employees can then feel confident that they know what is expected of them, and you can feel free to give them the space they need to do their jobs well.  How you communicate with your employees (and how your employees communicate with each other) makes all the difference!
6.  Get help through the process
You don't have to figure it all out on your own.  We help small business clients all the time to assess their needs, make the right hires, create training programs to build strong teams, and implement better management systems.  Your support network of advisers and other small business owners can be a guide or sounding board as you develop leadership skills and systems for better management.
It is important to invest time, money and attention in your people.  They are key to your business success!